Practical information
How can you get to us?
The City of Ústí nad Labem is connected to the international E 442 road (Liberec, Děčín, Ústí nad Labem, Dresden) and the I/8, I/13 and I/30 Class 1 roads. Moreover, Ústí nad Labem has a direct connection to the Berlin – Prague motorway (the A17 from Dresden, the D8 from Prague) which passes the western edge of the city. The nearest border crossing point is the Petrovice – Bahratal motorway border crossing.
The city is an important rail hub with four railway stations and it lies on the main Istanbul - Vienna - Prague - Berlin – Hamburg rail corridor. The main railway station in Ústí nad Labem is also an important rail terminal for intercity transport within the Ústí Region and it serves 6,200 passengers a day.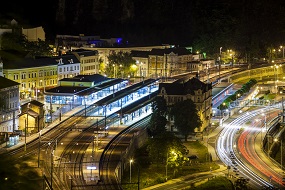 Emergency telephone numbers:
The uniform European emergency number 112
The Fire Brigade of the Czech Republic 150
The Ambulance Rescue Service 155
The Police of the Czech Republic 158
The Municipal Police 156
Information for drivers:
It is obligatory to have your headlights switched on at all times
The D8 motorway to Germany is subject to a fee (a motorway tax sticker) from exit 80
The D8 motorway to Prague is subject to a fee (a motorway tax sticker) from exit 64
Motorway tax stickers can be purchased at https://edalnice.cz/en